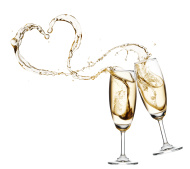 Wine for a wedding or gathering is a wonderful thing and to put your own dramatic flair or twist why not consider mead.
Infinite Heart Mead is made with all natural organic ingredients and contains little to no tannins for the potential guests with allergies. Flavors and quantities are custom made for you and you needs.
Wine Folly Has a wonderful guide to help you plan wine for your gathering. They suggest dividing your number of guests by 2.15. So for 100 guests, you should plan for 46 bottles. You can further divide your bottles into reds, whites, roses and sparking.
You should commit no later than 4 – 6 months before you date to ensure the best quality for your soiree.
Fruit Flavor Choices
(fruits out of season may not be possible at all times of the year)
Acai*
Apple
Apricot
Banana
Black Current
Blackberry
Blood Orange*
Blueberry
Cherry
Choakcherry* (only in the fall)
Coconut (this flavor was not as expected)
Coffee
Cranberry
Date
Durian* (it was really weird…think hard on this one)
Grapefruit
Honeydew
Jackfruit*
Juniper*
Kiwi
Lemon
Loganberry
Lychee/Litchi
Mangosteen*
Mulberry*
Peach/Nectarine
Pear
Pineapple
Plum
Pomegranate*
Pumpkin (okay maybe not a fruit but delicious)
Raspberry
Rhubarb
Saskatoonberry* (only in the fall)
Strawberry
Tayberry* (only in the fall)
Watermelon
Youngberry* (only in the fall)
Herb & Spice Flavor Choices
Anise
Basil
Catnip
Cayenne
Chocolate
Cinnamon
Cloves
Elderflower*
Ginger
Irish Moss*
Jasmine
Lavender
Licorice
Maple*
Mint
Matcha
Pepper
Rose
Rosemary
Saffron*
Sage
Thyme
Vanilla
Wasabi (it was really weird…think hard on this one)
Wormwood*
*Specialty fruits and spices may cost slightly more because of ingredients.
**When requesting a quote, feel free to combine flavors and don't be scared if what you want isn't on the list. info@infiniteheartmead.com